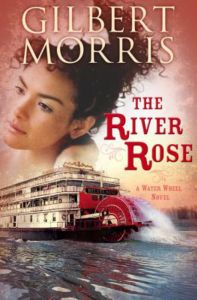 "The River Rose" A Water Wheel Novel #2 by Gilbert Morris, book review
Jeanne is working as hard as she can as a chambermaid to provide for her self and her daughter, Marvel. But it is difficult to save money when she is just trying to keep them housed and fed. Out of the blue, Jeanne is told that she is to inherit 1/2 of a river boat. She is shocked! And only half, so she must share with Clint Hardin. But Jeanne was raised on a river boat and has learned to pilot a boat. Clint is a rough man, who has an incredible singing voice. But he is a machinist, and knows how to work on the steam engine. Together, they are able to get the Helena Rose on the river and they begin to make money.
Both are surprised when Jeanne's long thought dead husband shows up one day demanding to have her money and half of the boat. They argue and Max is accidentally shot. Clint is arrested and charged in the shooting.
This is the second in the Water Wheel Novel. Of course Gilbert Morris is a remarkable author and this series is up to his usual standard, wonderful.
Disclaimer: I received a copy of this book from the publisher, B&H Publishers
All opinions expressed are my one.