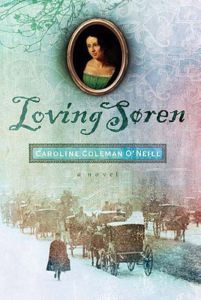 "Loving Soren" by Caroline Coleman O'Neal, book review
Soren Kierkegard was a brilliant man who wanted to write and influence people to search their heart for God. He was a tutor for a Regina Olsen, who fell in love with him. She was quite taken with him, even though he was quite eccentric, and suffered from depression (maybe even bi-polar). Though several months and years of building a type of relationship, they become engaged. At the last moment, Soren broke it off. Regina was devastated. She tries to convince him that they can make it work. But he will not change his mind.
She then turns to her old love, Fritz Schlegel, and they marry, but she never forgets Soren. While she is true to her marriage vows, she meets Soren several times a week. And after his death, he leaves her his estate and writings to her, with a letter, that says that he considered the engagement as permanent.
This is a novel based on real people. It is very thoughtful and has so much detail of the thoughts and feelings of the characters. The story moves quite slowly. I did enjoy the novel, but it did take some work to keep reading it, as it bogged down at times. It explored several interesting issues including depression and how family and friends deal with it.
Disclaimer: I received a copy of this book from the publisher, Broadman and Holman Publishers. All opinions expressed are my own.