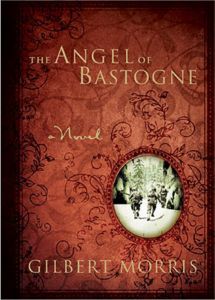 "The Angel of Bastogne" by Gilbert Morris, book review
Ben Raines is a writer for the newspaper in Chicago. He has planned for sevral years to vacation in Spain and this is the year! He will escape the cold winter and enjoy exploring the exotic coutry of Spain. But then a work mate has to have heart surgery and Ben must cover for him. To make matters worse, he must write the yearly Christmas editorial. But Ben does no believe in Christmas.
To get some inspriration he visits his father who is in VA hospital. Willy Raines fought in the Battle at Bastogne on Christmas Day 1944. He was injured and when he returned from the war found it difficult to keep a steady job. This frustrated and embarrassed Ben as a teen ager, as he had to give up extra curricular activities to run the family news stand just to keep a roof over their heads.
He decides to write about his father's war story and contacts the other men in his unit. He visits each of the survivors and learns A LOT about his father. With each visit he is impressed with the sacrifice his father made for his men, and how he has continued to encourage them with letters over the years.
This is a wonderful book that reveals how parents often give up everything for their children and others under their care. It is set at Christmas time, but makes an up lifting and encouraging read any time of the year.
Disclaimer: I received a copy of this book from the publisher, Broadman and Holdman. All opinions expressed are my onw.